GetMe Tools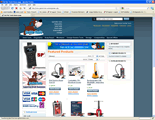 We provided Getme-Tools with a complete E-commerce solution, that enables them to sell hand tools online. They can now accept card payments on and offline, complete invoicing, VAT, despatch, stock, mailings, customer records, analyse site traffic. Check out more details via the in depth link below.

We enabled secure card purchase facilities on Getme-Tools site, they were then able to take payments from many different credit and debit cards worldwide. As well as being able to take payments online they are also able to use the same facilities to do the take payments for offline customers, for cards, cheques, cash & bank transfers.
As well as providing all the front end for the website, we setup back end facilities for Getme-Tools. This gave them the ability to produce invoices, VAT reports & track customer payments. This is all done directly from the purchase information produced by the website.
Each time a customer of the Getme-Tools site signs up, vital marketing information is saved to their database. This data can be used for postal campaigns, email promotions, customer relations.
Stock control can be handled directly on their site, passing all stock availability information straight to the customer. This stock control system along with data about previous sales, enables forecasting and planning of stock purchases.
Adding and amending products is very easy to do, this enables Getme-Tools own staff to update products on their site. In fact everything to do with product - specials, prices, stock etc are managed by Getme-Tools directly.
Special promotional areas on the site automatically update themselves depending on the product status set by Getme-Tools. Promotional periods can be changed removing any need for staff to remove or change the product after the promotion has finished.
Customers to the site have their own account and can log on 24hrs a day, to check status of their orders and past orders. Should details about their current orders change, for example items being dispatched, then they receive an email informing them of any changes.
Graphics and advice about the product pictures, were provided by Nyquist Solutions.
The Getme-Tools staff were all trained on the use of the new website and how to manage products and accounting facilities.
Before, during & after the development of the Getme-Tools website, we provided vital advice for Getme-Tools, this helped them understand the problems and advantages with selling online. We gave advice about banking and payments, and also about the look and feel of the site.
Along with giving advice about site promotion, we have set up schemes to enhance their site and increase the prominence of their site via various search methods.